ARTICLE
[MTN Money Today] Interest in Immune System spikes due to COVID-19
[MTN Money Today] Interest in Immune System spikes due to COVID-19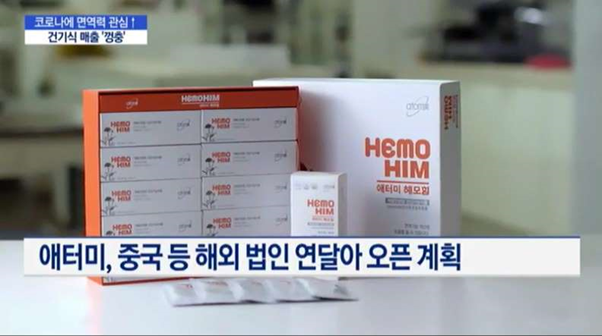 As the COVID-19 situation is prolonged, interest in personal health and immune system has spiked. As a result, the health functional food industry is recording a surprising performance. The industry is prospected to expand its influence not only within Korea but also throughout the global market. Brought to you by Reporter Chan Yoo.
Hemohim is a health functional food product, in which Atomy is in charge of its sales and distribution, while Kolmar BNH is in charge of its manufacturing. Sales for the product until the end of April this year, recorded KRW 67 billion, up 20% from last year. As the COVID-19 virus spreads, demand for products that improve the immune system have become more popular.
[Hyun-Gyu Kim, Director of Food Science Research Institute for Kolmar BNH: The health functional food product enhances antioxidants such as polyphenols and polysaccharides that can directly improve the immune system. It will relieve daily fatigue and tiredness, and will improve one's ability to recover quickly.
Hemohim, which exceeded 1 trillion won in total domestic sales and recorded annual sales of KRW 177.5 billion last year, is expected to further expand its consumer target in the post-corona era, as the demand for health functional food products will only continue to grow.
The outlook is positive as Atomy targets new global markets including India, Hong Kong, and China in the second half of this year.
[Eun-Young Lee, Head of Atomy's Product Development Team: Atomy China is planning to start selling its products in the second half of this year. With this, Atomy plans to officially launch to China. Hemohim, which uses medicinal herbs for its ingredients, is expected to perform well in the Chinese market..]


Atomy, which has already exported Hemohim to 12 different countries, plans to continue expanding its product lineup to help the consumers' immune system and overall health.
On the other hand, turning risk into opportunity, Atomy has defeated the odds by performing better during the COVID-19 pandemic. In response, Atomy has geared its efforts in giving back to the community by donating 1% of its total sales in May.
This is Chan Yoo reporting for Money Today.
MTN Reporter Chan Yoo, Money Today