ARTICLE
Atomy Mask, Taiwan Winning Best Product Award for 'Yushan Prize'
Atomy Mask, Taiwan Winning Best Product Award for 'Yushan Prize'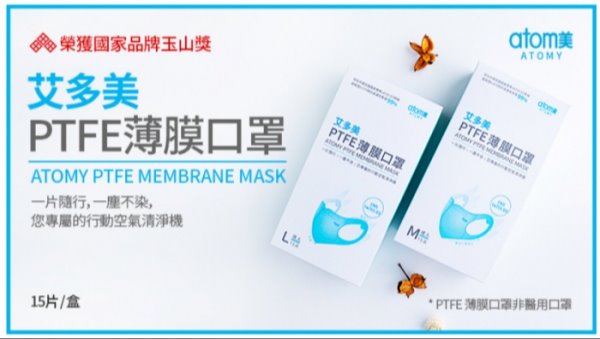 'Atomy PTFE Membrane Mask', washable and reusable... effective in protecting the environment
Atomy, which opened three overseas branches this year, had another triumph.

The Atomy PTFE Membrane Mask, developed by Atomy Technology, a subsidiary of Atomy Taiwan Corporation, won the "Best Product" category in Taiwan's Yushan Prize.

Amid rising concerns over environmental pollution due to the rapid increase in the use of masks caused by COVID-19, the Atomy PTFE Membrane Mask is an eco-friendly product that can be reused once or twice after cleaning due to its low adhesive power and hydrophobic structure.

Billions of nanoholes measuring between 0.1 to 0.5 microns block pollutants directly from the air, so you don't have to worry about the degradation of static adsorption performance caused by moisture.

It also passed the US standard ASTM F1862-2017 –160mmHg liquid penetration pressure test.

When wearing the mask, it releases moisture from breathing to the outside, reducing problems that occur when wearing it for a long time.

"The Atomy PTFE Membrane Mask is a product that can reduce environmental pollution caused by the increased use of masks due to the global pandemic," an Atomy official said.

"As Atomy grows into a global company, we feel a great sense of responsibility and will distribute recycling products that take into consideration not only Absolute Quality and Absolute Price, but also the environment," he said.