ARTICLE
Bubble Double - Refer a Friend Event
Bubble Double - Refer a Friend Event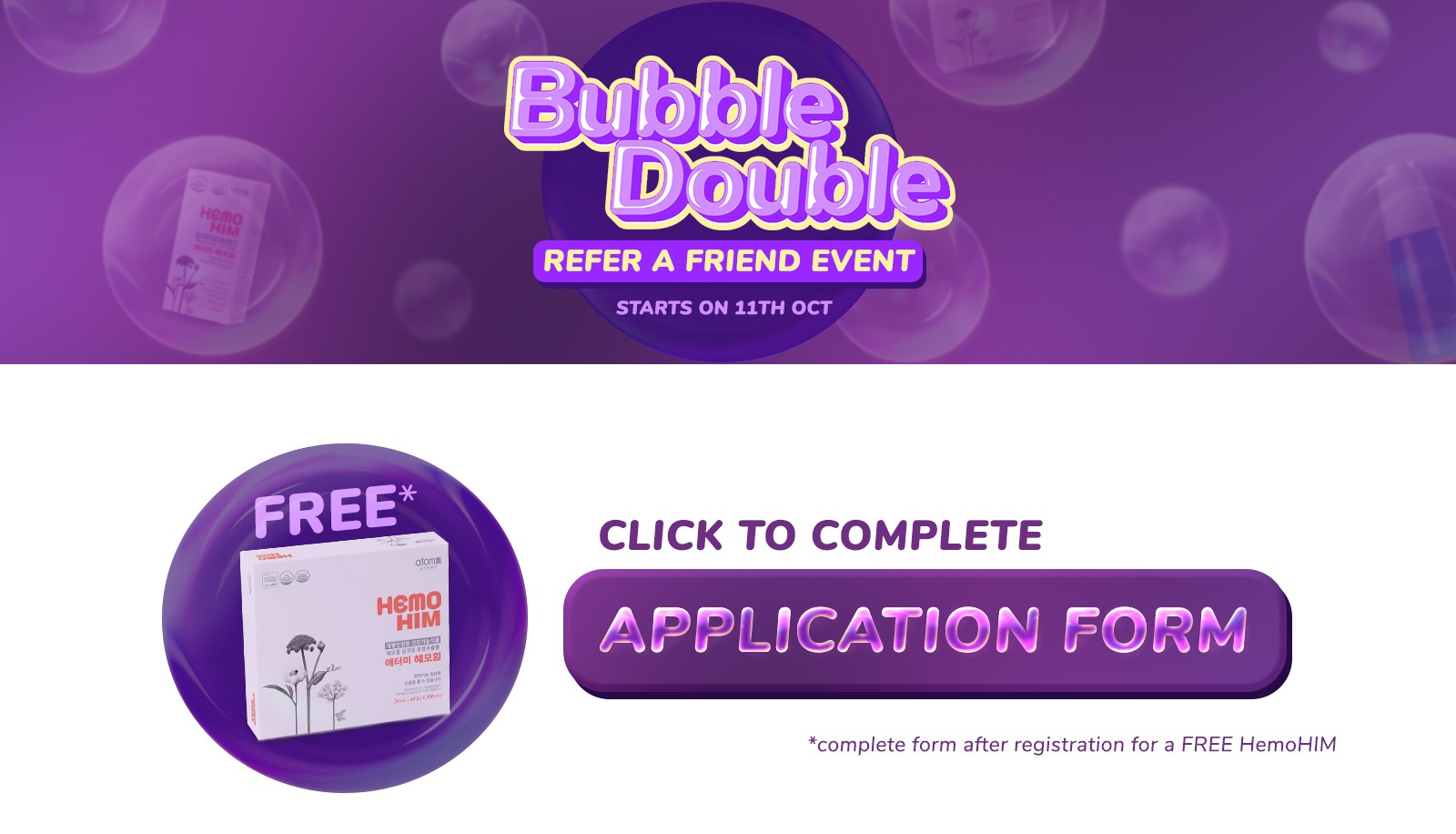 CLICK FOR CHINESE EVENT PAGE
CLICK FOR KOREAN EVENT PAGE

Introduction of "BUBBLE DOUBLE" EVENT
– inviting more New members -
Atomy New Zealand arranged an event supporting All Atomy New Zealand members who have suffered in having new partners under these hard times of lockdown situations. Hence, Atomy New Zealand prepared GIFTs to both new NZ members from 11th October 2021 and existing NZ members who invited/helped the new member's registration. Terms and conditions applied.
Any limitation in winning this event?
Both members (inviter/invitee) must be Atomy NZ members. Current Atomy NZ members are eligible to introduce Atomy and help people to register as new Atomy NZ members. One existing member matches with one new member as one valid set. Please note that this event was arranged and will be operated EXCLUSIVELY IN NEW ZEALAND by Atomy New Zealand office.
New member must follow one of official Atomy NZ SNS account. Depending on preferred SNS services, the new member needs to follow any one of the followings – Facebook and Instagram
Members who requested termination within the past 12 months cannot be registered – blocked by Atomy system. However, people with auto-terminated membership before can be registered as new members with the same personal information (mobile number, address, etc.)
Personal information must be genuine to the new member himself/herself. It doesn't matter whether a new member joins as a consumer or distributor. However, their mobile phone, email address, ID, and bank details must be unique, not duplicate of any existing Atomy NZ members.
How to claim your GIFT ?
Only the new member is eligible to claim event gift with the received proofs and the inviter will be identified as one set of event winners. The existing Atomy members will be automatically validated through the received claims by the new members fortnightly.
Step 1) Take screenshot of verification code received while registering your mobile
Step 2) Take screenshot of 'Registration completion email' with the ID number shown
Step 3) Screenshot of SNS proving that you're following or joining one of the following
Facebook : 'Like' Atomy NZ at https://www.facebook.com/atomynzofficial
Instagram : 'Follow' Atomy NZ at https://www.instagram.com/atomynzofficial
Step 4) Go to Google Form "BUBBLE DOUBLE EVENT" for claiming GIFTs
* Further information/help on claiming GIFT, please make an inquiry to info_nz@atomy.kr
Can members win the event multiple times? What would be the reward and gift scheme, then?
Yes. The more new member to be registered with Atomy member's support/help/guide, the more rewards the member can receive from Atomy NZ. It's up to the new member, who will use the member's ID when claiming their GIFT.
Atomy New Zealand will update/upgrade Gift items monthly. Please note : the gift items can be replaced with other products with similar value without prior notice.
GIFT Items from 11th October
Newly registered member : HemoHim 1 Set
Atomy member who invited/helped/registered the new member
+2 members : HemoHim 1 Set (NZD 155)
+5 members : Additional HemoHim 1 Set + Skincare set The Fame 1 Set (NZD 310)
+10 members : Additional HemoHim 1 Set + Absolute Skincare 1 Set (NZD 475)
Once achieved 10 more new members registered, the same gift scheme above starts again. There's a limit of total 20 new members matching with 1 existing Atomy NZ member for winning gifts until the event ends.
Fortnightly (every two weeks) the claimed event winners (new member and the inviters-including multiple winners) are counted for delivery of their presents. Delivery of the gifts will be processed within the next two weeks in order.
Any PV points from the reward gifts?
No PV points will be accumulated to any member as they're not purchased products.
Hence, reselling or mispresenting reward gift products is strictly prohibited.
How can the winners get the gifts delivered?

All entries, after being validated by Atomy NZ CS team, will be notified after fortnight cut-off.
All gifts, including new member gifts and inviter gifts, will be delivered to Education Centres.
Inviters/Sponsors can pick up the gifts from their education centres and then personally deliver the gifts to their invitees/new members.
If the inviter is unable to deliver the gift to the invitee, the invitee can personally pick up their gift from the education centre.
Members residing in remote regions that cannot go to education centres, because they are residing in a different city, can send a request to their education centre for the gift to be sent to their personal residential address. e.g. Members living in the South Island can request their Auckland education centre to ship the gift to their South Island Address.





TERMS AND CONDITIONS

1. For a registration for this event to be valid, the invited new member must register with Atomy New Zealand on the official Atomy New Zealand website. After registration, they must fill in the official event form with the required fields and screen captures.
2. The event form should be entered by the newly invited member and all screen captures and photos must be from the invited member's phone and computer.
3. Atomy New Zealand will not be responsible for the incorrect spelling or mistyping of membership IDs. The google link form will be open for editing during the event time, please double-check that all details have been correctly entered, or else the incorrectly entered information will be used to count towards the event gifts and may lead to missed opportunities.
4. This Double Bubble Event will be until stocks last. Once all event stocks have been allocated the event will close and the end of event announcement will be shown on our Instagram, Facebook and Shopping Mall Banner.
5. When the event closed announcement is announced on our shopping mall banner and Social Media Accounts, Atomy New Zealand will provide a grace period from the time the announcement is released until 11:59PM at night on the same day, where any entries applied during this time will still be a valid entry despite the closure of the event.
6. Atomy New Zealand reserves the right to end the event at any time with no prior notice or reason.
7. When the event closes, all numbers of invited members for invitees will be honoured up till the event is closed. All accumulated gifts for when the event was active will be valid and the respected products will be delivered as scheduled. However, any registrations after the day the event closed will not be able to receive any of the event gifts as it was not during the event period.
8. Event Gifts are a promotional gift from Atomy New Zealand, the event gifts are not for sale and cannot be sold, exchanged, or returned.
9. Atomy New Zealand reserves the right to change, suspend or cancel the terms and conditions for the event at any time.
10. Any members found to have entered the event with fake or duplicating accounts will be deprived of all accumulated event gifts.