ARTICLE
ORIENTAL DAILY (27/8/2019) : Atomy Run 2019 - The Bond Between us
ORIENTAL DAILY (27/8/2019) : Atomy Run 2019 - The Bond Between us
​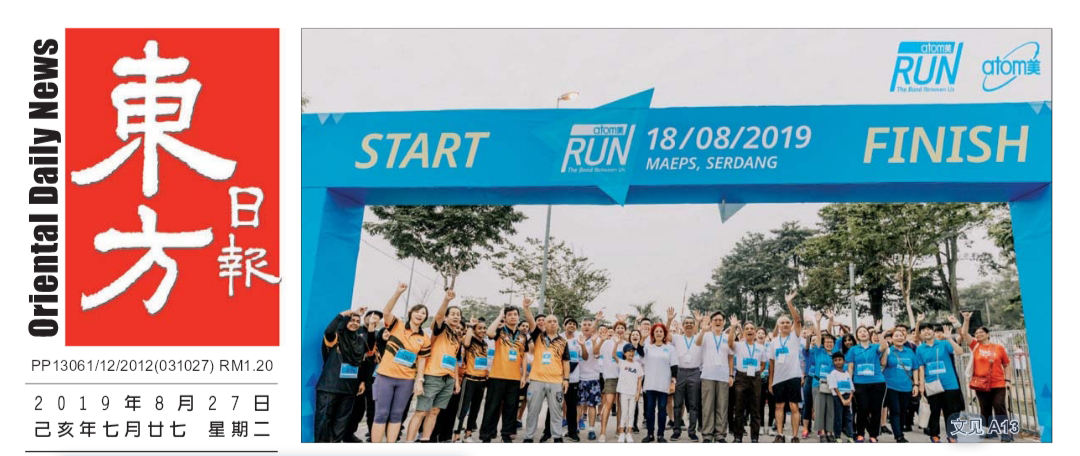 3, 500 PARTICIPATES IN ATOMY CHARITY RUN (translated version)
Atomy Malaysia held charity run dubbed Atomy Run 2019 at MAEPS, Serdang with 3,500 participants, the company also generously donated to 2 deaf community beneficiaries known as PMY (Pusat Maju Diri Y for the Deaf) and MSDeaf (Malaysian Deaf Sports Association) at RM60,000.00 each.
Atomy believes in giving back to the society as a sense of corporate social responsibility, and this is one of the core foundations of Atomy Global.
According to Atomy Malaysia Country Manager Mr Sewon Kim, "Atomy Malaysia wish to introduce the high quality of Atomy Products with reasonable price to Malaysians through this charitable event. Meanwhile, Atomy Malaysia is also aspiring to erect a school for the Deaf community in 10 years-time as a platform for them to explore their talents and potential."
The MAEPS, Serdang welcome the arrival of 3,500 participants in the early morning to run for charity, the charity run covered a 5KM distance within the vicinity of MAEPS Serdang.
Apart from the run and the exciting activities which included food trucks, inflatable castles, clowns, The DEAF Beat from YMCA (drum performance by the deaf) were also performing a fascinating show for the participants.
Furthermore, Atomy had also prepared their highly rated skin & beauty care products as part of the prize for lucky draw, where grand prize was the Atomy Korea Round Trip ticket on October, for the winner to enjoy their Atomy Exclusive Korea Tour.
ATOMY ONLINE SUPERMARKET THAT OFFERS WIDE ARRAY OF PRODUCTS
Atomy was founded in 2009 in South Korea by the reputable chairman, Mr Park Han Gil, offering high quality health, beauty, personal care, home and living as well as food products with reasonable price to the mass consumers.
Atomy also runs an online mall where consumers can purchase their daily household necessities.
Atomy has already been expanded to more than 10 countries worldwide, including USA, Japan, Canada, Taiwan, Singapore, Cambodia, Philippine, Thailand, Mexico & etc, while Atomy Malaysia was established since November 2016 with 164 Education Centre nationwide, providing 130 products in exclusive.
As the giant in Online shopping platform, Atomy had engaged with Kolmar BNH, a joint venture of Korea Atomic Energy Research Institute and Kolmar Korea, to manufacture product resulted by Korea Atomic Energy Research Institute R&D team.
Kolmar BNH invented the Atomy exclusive, cutting-edge nano-sized particle of 33-50 nano technology which much smaller than epidermis, enable the transfer of active ingredients deeply into skin. Also, Kolmar BNH invented Multiple Capsulation Delivery Technology, an ultra-fine capsule particle that helps to protect the active ingredients from to be transferred deep into granular layer of skin.
Atomy offers wide array of products stands from Make-up, supplement, daily use product, food & etc, whereby skincare inclusive of Evening Care 4 Set for deep cleansing; Whitening, Moisturizing, spot out series; AC care special for sensitive, acne, oily skins; Absolute CellActiveTM Skincare for skin de-aging and more.
On top of that, household products e.g. Atomy MediCook 32 Wok with 5-ply stainless Steel & Stainless Steel Scrubber are too in the catalogue of Atomy Platform. In which, Atomy principle towards products are about Absolute products at an Absolute price that made of natural ingredients.
For your information, you could enjoy free postage whenever purchase made is RM290.00 and above.
For more information, kindly refer to Atomy official website at
www.atomy.com/my
---
3,500 MENGHADIRI LARIAN AMAL ATOMY
Atomy Malaysia telah mengadakan larian amal juga dikenali sebagai Atomy Run 2019 di MAEPS, Serdang dengan 3,500 peserta. Atomy Malaysia juga telah menyumbang RM60,000 ke 2 komuniti pekak iaitu PMY (Pusat Maju Diri Y untuk Orang Pekek) dan MSDeaf (Persatuan Sukan Pekak Malaysia).
Atomy percaya dalam memberi balik kepada masyarakat sebagai tanggungjawab social korporat, dan ini adalah salah satu asas utama Atomy Global.
Menurut Pengurus Besar Atomy Malaysia, En Sewon Kim, " Atomy Malaysia ingin memperkenalkan produk Atomy yang berkualiti tinggi dengan harga yang berpatutan kepada rakyat Malaysia melalui aca amal ini. Selain itu, Atomy Malaysia juga bercita-cita untuk mendirikan sekolah untuk komuniti Pekak dalam masa 10 tahun bagi menerokai bakat dan potensi mereka."
MAEPS, Serdang mengalu-alukan ketibaan 3,500 peserta pada awal pagi untuk larian amal tersebut yang meliputi jarak 5KM di sekitar Kawasan MAEPS Serdang. Selain dari larian, Atomy juga telah menyediakan pelbagai aktiviti menarik termasuk trak makanan, belon istana, badut, persembahan The DEAF Beat dari YMCA dan macam-macam lagi untuk para pengunjung.
Tambahan pula, Atomy juga telah menyediakan produk penjagaan kulit & kecantikan mereka sebagai sebahagian daripada cabutan bertuah, di mana hadiah utama adalah merupakan tiket untuk Atomy Korea Round Trip pada bulan Oktober untuk pemenang menikmati Atomy Korea Tour Eksklusif mereka.
ATOMY ONLINE SUPERMARKET YANG MENAWARKAN PELBAGAI PRODUK
Atomy diasaskan pada tahun 2009 di Korea Selatan oleh pengerusi terkemuka, En Park Han Gill. Syarikat ini menawarkan pelbagai produk dalam kategori kesihatan, kecantikan, penjagaan diri, rumah & hidup dan makanan yang berkualiti tinggi dengan harga yang berpatutan kepada pengguna.
Atomy telah diperluaskan kepada lebih dari 10 negara diseluruh pelusuk dunia termasuk Amerika Syarikat, Jepun, Kanada, Taiwan, Singapura, Kemboja, Filipina, Thailand, Mexico & sebagainya. Atomy Malaysia ditubuhkan sejak November 2016 dengan 164 pusat Pendidikan di seluruh negara, menyediakan 130 produk eksklusif.
Sebagai gergasi dalam platform membeli-belah atas talian, Atomy berkerjasama dengan Kolmar BNH, sebuah syarikat usahasama antara Korean Atomic Energy Research Institute (KAERI) dan Kolmar Korea untuk mengeluarkan produk yang dihasilkan oleh pasukan R&D KAERI.
Kolmar BNH mencipta teknologi canggih nano berskala 33-50 yang jauh lebih kecil dari epidermis, yang membolehkan penyerapan bahan aktif secara mendalam kedalam kulit. Kolmar BNH juga mencipta teknologi pelbagai kapsul penghantaran ultra-halus yang membantu melindungi bahan-bahan aktif daripada dipindahkan ke dalam lapisan kulit berbutir.
Atomy menawarkan pelbagai produk yang terdiri daripada Make-up, suplimen, produk penggunaan harian, makanan dan lain-lain, dimana penjagaan kulit termasuk Evening Care 4 set khas untuk pembersihan yang mendalam, pemutihan, pelembab, spot out series AC care khusus untuk kulit sensitive, jerawat, berminyak. Absolute CellActiveTm Penjaagaan kulit untuk banteras penuaan kulit dan banyak lagi.
Di samping itu, produk isi rumah contohnya Atomy MediCook 32 Wok dengan 5-lapis stainless steel dan scrubber stainless steel juga dalam katalog platform Atomy. Prinsip Atomy terhadap produknya adalah kualiti mutlak pada harga yang berpatutan diperbuat dari bahan-bahan semula jadi.
Anda boleh menikmati penghantaran percuma apabila pembelian bernilai RM290.00 ke atas.
Untuk maklumat lanjut, sila layari laman web rasmi Atomy di
www.atomy.com/my