ARTICLE
Atomy ranks 11th in Top Global Direct Sales Companies
Atomy ranks 11th in Top Global Direct Sales Companies
Atomy ranks 11th in Top Global Direct Sales Companies
America's DSN announces Top 100 Global Companies… Atomy climbs up 9 places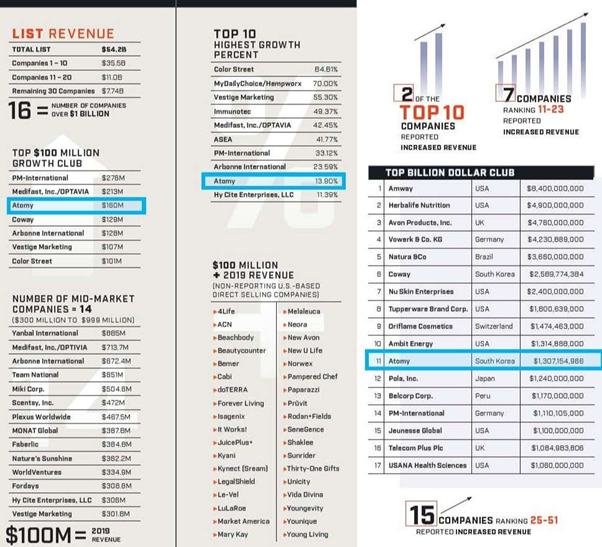 Direct Selling News (DSN), an American direct sales magazine, announced on the 1st of this past month that Atomy was ranked 11th in the 2020 Direct Selling Global Top 100 Companies. This is an improvement of nine places since the previous year. Last year, Atomy recorded sales of $1.37 billion in 14 countries worldwide, including Korea. It grew 13.9% compared to the previous year and was named as one of the companies with the Top 10 Highest Growth Percentage.
Atomy is expanding its growth in its 14 overseas branches including in the United States, Japan, Canada, and Taiwan. Atomy plans to launch in China, India, Turkey, Hong Kong, and Colombia this year.
Atomy was ranked 20th in the list last year, making it the first Korean network marketing company to make it to the DSN's Global Top 100 list. Every year, DSN announces the Direct Selling Global Top 100 Companies list for companies that can provide their direct sales revenue information and related documents that can prove such numbers.