ARTICLE
7 Solution Gel Mask – Replenishing Moisture
7 Solution Gel Mask – Replenishing Moisture
Use twice a week!
Satisfaction with mask layer that resembles your skin!
- Atomy 7 Solution Gel Mask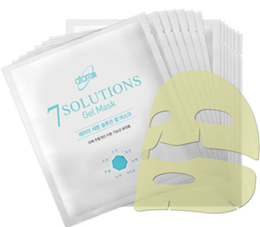 Atomy 7 Solution Gel Mask is a product that can care for stressed skin from summer's UV rays and for rough skin from fall's dry winds.
Quercetin and fresh herbs have been extracted and added to Atomy's 7 Solution Gel Mask, which cares for dull, dry skin that has lost its elasticity caused by stress.
The product also contains collagen and hyaluronic acid, which adds moisturization. Additionally, substances certified by the Ministry of Food Drug & Safety have been added - adenosine, a functional ingredient for improving wrinkles, and niacinamide, a whitening functional ingredient, to help clean and care for the skin.
Soothing effect that adds comfort and liveliness to the skin
It soothes the skin that is fatigued by strong UV rays and pollution. In addition, it contains mild plant-derived substance to help moisturize and soften the skin.
Hydrogel's water and oil ratio helps the skin absorb better
Unlike the typical water-soluble type, the product's oil-and-water balance is similar to the human skin, which increases the adhesion and absorption of the skin - making the skin healthier and more elastic.

Atomy's 7 Solution Gel Mask is a mask sheet that sticks across the surface of the face and provides deep moisture to the skin and helps care for the 7 main issues of the skin, which include soothing, nutrition, whitening, skin texture, elasticity, and wrinkles.

Atomy's 7 Solution Gel Mask Order of Use




① After washing your face, cleanse along the grain of your skin using a toner moistened with a cotton pad.
② Open the 7 Gel Mask and remove the film on both sides of the upper and lower mask.
③ Gently apply the bottom mask around the mouth, so that the surface from which the film has been removed sticks well to the skin. In the same way, gently apply the top mask around the eyes.
④ After about 30 minutes, remove the mask and tap the remaining liquid for the skin to absorb.

Finish off with lotion or cream depending on the condition of the skin.

+ Tip for using 7 Gel Mask
Store in refrigerator before use for a more cool and moisty experience.