ARTICLE
【Fortune Korea Aug 2017】 Atomy's Overseas Ventures, Corporate Culture & Flagship Products
【Fortune Korea Aug 2017】 Atomy's Overseas Ventures, Corporate Culture & Flagship Products
03 Atomy's Overseas Ventures
Establishing Presence in 10 Overseas Markets in 7 Years Atomy Is Set to Put Its Flag In China and India
Atomy's positive overseas performance has contributed to the company's highway success. Since its first overseas venture in USA in 2010, Atomy has been systematically executing its overseas expansion plans. We look into its journey in the global market.
Article by Kim Byung Joo bjh1127@hmgp.co.kr
In 2015, for the first time in the domestic network marketing history, Atomy has won US$20 million Top
Exports Award. In the following year, Atomy broke its own record by receiving the US$30 million Top Exports Awards, a hurdle that no other company in the 30 years of domestic network marketing history has overcome. Before this, Amway maintained the highest exports record of US$10 million in the network marketing industry in Korea, awarded in 2002. Atomy surpassed this record in 2013, and this year, it has been confirmed as the recipient of the award for making US$50 million export. Atomy is the first Korean network marketing company that officially announced its overseas expansion. Atomy set up its first overseas office in Seatte, USA in May, 2015, only a year after the company was founded in 2009. Many experts voiced concerns over Atomy's first overseas venture, claiming that the network marketing industry in USA is already high saturated. Atomy soon proved that all these worries were in vain by achieving a significant performance in a short span of time in the new market.

Atomy's first sales in USA was US$4 million. In the following year, Atomy hit US$7.7 million sales, experiencing almost a twofold jump. The continuous growth in Atomy's sales in the market has resulted in the sales of US$24 million last year. Atomy personnel stated that the company's success in USA proved that its universal philosophy - good products can be sold anywhere - can be communicated worldwide.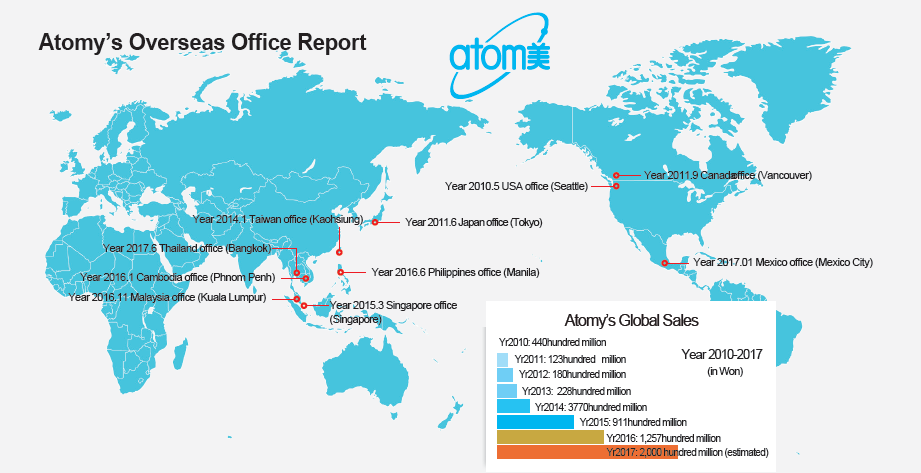 Following the setup of its overseas offices in USA and Japan, Atomy has established its presence in 10 countries including Canada, Taiwan and Singapore. The overseas sales has jumped by almost 30 times, from US$4 million in 2010 to US$112 million last year. CEO Park Han-Gill believes that products should be at the centre of pioneering a new global market, and aims to continue to develop products that can Atomy can confidently introduce to the international market.

Atomy's current focus markets are China and India. Both markets boast huge size and immense growth potential. Last December, Atomy has built its first bridge with China Atomy by holding a bilateral investment agreement signing ceremony with Yantai city. Atomy expects to get its network marketing business approval in China in 2019. With the approval, Atomy plans to kickstart the distribution its
masstige products to consumers worldwide.

Currently, Atomy is developing a F&B industry cluster "Atomy Orot" on the 720,000 square feet land it acquired in Gongju city in South Chungcheong province. The company aims to gather capable F&B companies and support their R&D and product development efforts. China is the key target market for this cluster. "Many Chinese have low faith in their domestic products. They acknowledge the quality of Korean products and I hope to compete in the market by introducing the food and baby products manufactured in the cluster", said CEO Park Han-Gill.

Atomy has already set up an office in Yantai, China. Beginning this September, Atomy will begin manufacturing one of its top 5 sellers, toothbrushes, in a local factory. It aims to complete the construction of its local HemoHIM factory in 2019.

India is another up and coming market next to China. Atomy has been paying a close attention to the market's rapid growth after the PM Narendra Modi took over the Indian government. Internally, Atomy is appointing a director to manage its office in India. After the company finds its director, it will actively start its business amongst the local community.

Besides setting up an office, Atomy has also been participating in various social activities in India. CEO Park Han-Gill has personally set out to build a school for the underprivileged children in the country. Not only such contribution is part of the company's community service efforts, it also reflects CEO Park Han-Gill's business philosophy.

"For the past 10 years, I have focused on creating a system that makes money. These days, I am trying
to create a system can spend money well. Donation is a common form of the system. I wanted to build on it and develop one that can extend and recreate positive influence to many. I thought building a school
could be a good solution to this. Children with a good education are more likely to create positive synergy
as they enter the society in the future", said CEO Park Han-Gill.

High-quality products and customer-centric marketing have played an important role in Atomy's global success. As Atomy continues to expand its wings overseas, its international sales is expected to hit US$178 million this year. Atomy's ultimate goal is not to become a number one distribution company in Korea, but to become the number one global firm. With a bright prospect for future growth and all eyes on Atomy, its dream may come true one day.
---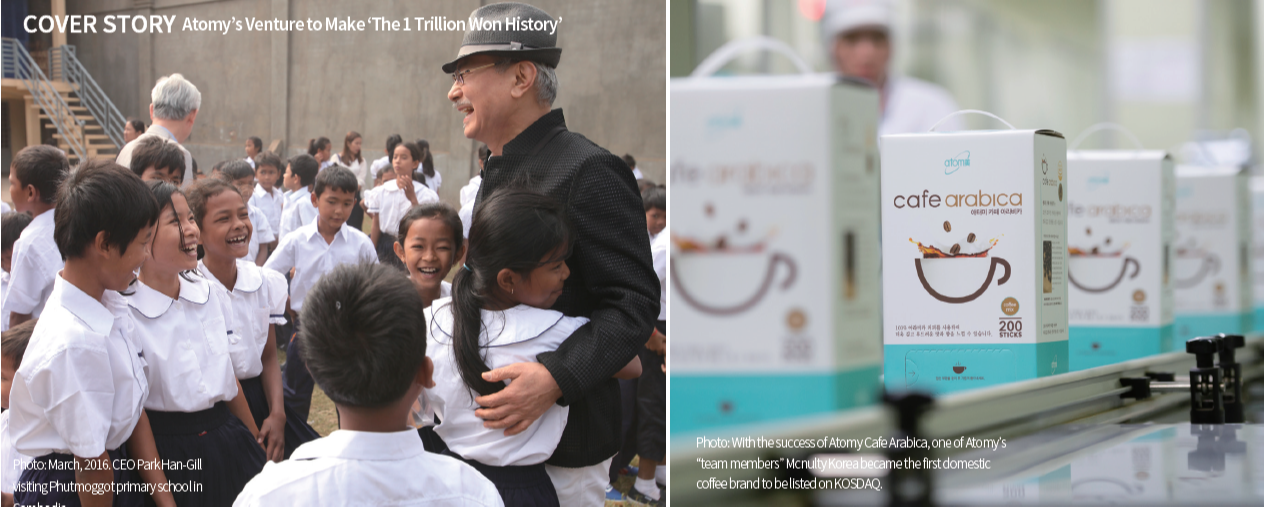 Exploring A Win-Win Strategy With SMEs
Launch of the Atomy's 1st Partner Hunt Project
On 26 June, Atomy launched its first "Partner Hunt Project" to help the domestic SMEs with good products but low brand power and marketing capability achieve sustainable growth. As a company that advocates joint growth with all its partners, Atomy aims to provide more companies with an opportunity to bring their businesses to the global market through this project. Atomy's massive membership size can also become a solution to many SMEs which have been facing challenges in marketing its products. Atomy tries to reduce its partner companies' cash flow problems by making the full payment in cash within a week after the delivery. Companies that are selected as Atomy's new partners through this project can earn an opportunity to enter the global market and receive various financial and management assistance. The project is set to activate the domestic SME ecosystem. Atomy aims to contribute to the growth of local SMEs by exploring ways of joint growth. It believes in the importance of collaborating with quality SMEs to expand their businesses internationally. "We wish the project can result in a hit product such as HemoHIM. We will continue to work with our partners to make new history", emphasised CEO Park Han-Gill. "Our partner companies' high-quality products are the key to upholding Atomy's 'Absolute Price, Absolute Quality' principle. I hope the project can bring about an opportunity for many more companies to collaborate and grow with Atomy ", he added.
04 Atomy's Corporate Culture
Keys To Atomy's Corporate Spirit - Principle-Centred Culture, Win-Win Strategy and Sharing Culture
Atomy's corporate spirit emphasises adhering to principles as failure to do so would lead to a loss of purpose. As a result, Atomy encourages its members and employees to create a principle-centred and sharing culture, and practice a win-win strategy. CEO Park Han-Gill says Atomy business's baseline is a spirit that values principle. He states that Atomy's current corporate culture is a result of such spirit presented in various forms. We find out more about the three pillars of Atomy's corporate culture.
1. Principle-Centred Culture
Network marketing is often labeled as a pyramid scheme or get-rich-quick scam. Unlike the common stereotypes, network marketing is a distribution strategy which eliminates all the middlemen and connects the suppliers with the consumers in the cheapest and the shortest route possible. Occasionally, the entire network marketing industry suffers from negative publicity due to a few illegitimate companies and members who resort to expedient ways to derive sales. They exploit the normal sales channels and may bulk purchase products for a quick and easy financial deliverance and promotion.
Atomy is making a great effort to prevent these fraudulent activities. As Atomy believes that enforcing rules and regulations is not the most effective way to eradicate the problem, it focuses on cultivating a "principle-centred" corporate culture to ensure a healthy network marketing principle take root in the company. The key to this culture is Atomy's "Absolute Price, Absolute Quality" and "valuing goodness" principles. CEO Park especially advocates the "valuing goodness" principle which translates to "the best business strategy is honesty and vitreousness". He stresses this to all his members, emphasising that everyone has to be mindful of having a thought such as "one rotten apple cannot possibly spoil the barrel" as a single bad influence can become the cause of a company's downfall.

In its effort to uphold the principle, Atomy founded the Ethics Advisory Committee and has also been organising a series of anti-betting competitions, campaigns and UCC contests since 2012.
2. Win-Win Culture
To date, Atomy's journey has been shared with Korea's SMEs. Atomy believes in completing a three-legged race with all its partners through a close collaboration to achieve success for everyone involved. Kolmar BNH, Atomy's current biggest partner, was suffering from an impaired credit when they first began their collaborative journey with Atomy. Today, Kolmar BNH has grown into a multi-million dollar firm with its yearly revenue surpassing US$500 million. With the partnership with Atomy, Diotech Korea's revenue has also risen to US$13 million - 25 times jump from its past figure of US$450,000. Alongside, all Atomy's 50 partners including Sea Global, Jinheon Food, Saerom Food and Mcnulty Korea have experienced a win-win growth through mutual trust and cooperation. Atomy's "Absolute Price, Absolute Quality" strategy also has its roots in its win-win corporate culture. Atomy has been supporting its partners through various means including providing financial help to continuously improve the quality and reduce the cost of the products. Atomy also ensures all payments are settled within a week after every delivery and provides necessary capital to the partners to scale up their systems.

The effectiveness of Atomy's win-win culture has been proven by the success of its partners. A good example is Atomy toothbrush, one of the brand's flagship products. Today, over 20 million of this US$0.90 toothbrushes are sold every year. The success of Atomy toothbrush was due to Atomy's support continuously rendered to the supplier Diotech Korea. Atomy has introduced programmes and policy initiatives such as making full down payment for the product ingredient costs for Diotech Korea, paying for all batches of supplies in cash and assisting the company with factory automation.
3. Sharing Culture
Fishes cannot survive out of water and likewise, a company cannot sustain its business without the society's support. Hence, companies' CSR activities are often not regarded as a good deed, but a social responsibility it has to fulfil. Atomy's sharing culture bears such philosophy. CEO Park emphasises that a corporate's goal should extend beyond generating profit to have a positive impact on the society. "For the last decade, I focused on creating a system that generates sales. Today, I am committing myself to create a system that can spend money for a good cause", CEO Park shared. He is currently setting up a school in India, due to open this September. Alongside, he is also working to set up an educational institution in Cambodia and South Chooncheong province in Korea. "I wish to set up at least 100 schools all over the world during my lifetime", he added. In addition, Atomy also actively carries out various CSR programme including "Free lunch programme at Phutmoggot primary school", "Gomagongju bread sharing project in Gongju city", "Atomy Share-The-Love bazaar", "Atomy Share-The-Love briquette project" and "Atomy Share- The-Love Kimchi project". It plans to launch two new initiatives, "Business incubation project for the millenials" and "Atomy charity marathon" to support the setup of a foundation for the single mums beginning in late 2017.
05 Atomy's Flagship Products
50 "Team Members" Supplying Over 200 Types of Products HemoHIM and Basic Skincare Set - Two Top Selling Products
Atomy has been enjoying explosive growth with its "Absolute Price, Absolute Quality" strategy. Fortune Korea takes a closer look at some of its flagship products.
Article by Ha Je Heon azzuru@hmgp.co.kr
Atomy sells more than 200 different types of products. From functional health supplements to skincare products to hair/makeup items to food and lifestyle goods, Atomy's products are supplied by 50 partner companies across Korea.
Atomy's top representative products are HemoHIM and Skincare Set. Sales (including the sales of single items) of these products have surpassed US$116 million and US$125 million respectively. As the popularity of the products grows, Atomy is closing the gap fast on Amway, the largest network marketing company in Korea.
The key to the rising popularity of the two flagship products lies in the low price tag and premium quality. HemoHIM is produced by Kolmar BNH, a joint venture by KAERI and Kolmar Korea. HemoHIM, a functional health supplement that contains active natural ingredients such as Angelica Radix, Cnidium officinale and Paeonia japonica, was first developed by KAERI's research team. The product's active ingredient mixture has been approved and recognised by Korea Food &
Drug Administration (KFDA) as a supplement that can boost immune functions. Each HemoHIM pack (4 sets) contains 60 packets and it is priced at US$70.
Atomy's flagship products. (From left) Basic skincare series, toothbrush, salted mackerel, HemoHIM
Atomy's Skincare Set was developed using KAERI's patented high-purification technology and Kolmar BNH's bio/nano technology. The product is widely known amongst its patrons as a "applyall-you-can cream" due to its proven quality, large volume and low price tag. It is especially popular with female consumers as it contains a high level of active ingredients that are effective for skin rejuvenation.
Atomy's US$0.90 toothbrush is the brand's another bestselling product . More than 20 million Atomy toothbrushes are sold every year, and it is produced by Diotech Korea, an established manufacturer of oral care products present in USA, Japan, China and Russia. Diotech Korea has attained Q Mark, a quality guarantee standard endorsed by Korea Merchandise Testing & Research Institute. The company has also developed a toothbrush that contains antibacterial gold ions which are certified by Korea Far Infrared Association (KIFA).
Atomy's popular products also includes salted mackerel. The company is witnessing a steep rise in the salted mackerel sales which adds up to more than US $11 million every year. The product is processed by Sea Global, a seafood processing firm with HACCP, the food safety management accreditation. The company only processes premium NORGE-certified mackerels that are guaranteed by the Norwegian government. Sea Global processes these mackerels by removing the fish heads, guts and bones. Cleaned mackerels are later aged in lowtemperature. Atomy's salted mackerel is popular with housewives due to its ease of preparation. Every 2kg (14 - 16 fillets) of Atomy's salted mackerel is priced at US$22.
"Atomy's key priority is quality of its products, and we ensure that the quality is maintained from the product conceptualisation stage to post-product launch. We continuously monitor the manufacturing process to ensure product quality. We address any product quality issue with our "Team Members" to find the best solution to the problem", said CEO Park. This, he adds, is how Atomy achieves its consistent product quality.
---
INTERVIEW Baek In Young, CEO/Director of Kolmar BNH
"HemoHIM and Skincare Set - The worldclass products"
Atomy's two flagship products HemoHIM and basic skincare set are a result of Kolmar BNH's radiation, life science and nano technology. Fortune Korea spoke to Baek In Young (photo), the Director and CEO of Kolmar BNH about the products unique features and history.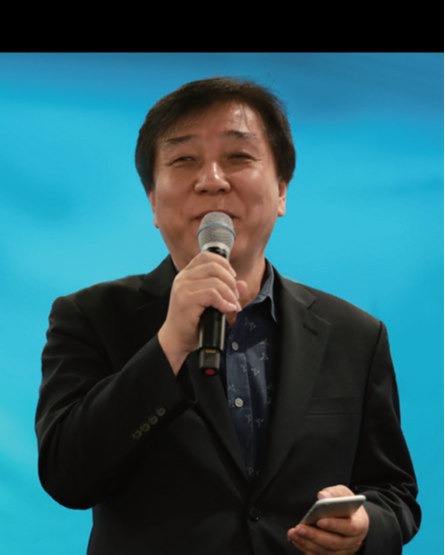 Q. How were Atomy's flagship products HemoHIM and skincare line first developed?
In 1997, KAERI kickstarted a research project studying various herbal ingredients to create a
new natural substance that can radially improve the immune system of the people working in
the radiation industry. After 6 years of intensive studies, the team created a natural herbal extract mixture. In 2004, KAERI collaborated with Kolmar Korea to set up an institutional venture company Sun Bio Tech (later renamed as Kolmar BNH). Sun Bio Tech began to develop a functional health supplement, and in 2007, it launched HemoHIM. KAERI's patented high-purification technology was also used to develop Atomy's basic skincare set. Despite the proven quality of the two products, sales was slow in the beginning due to the lack of sales experience by the team. CEO Park Han-Gill's visit was a timely one - he told us that he is confident in selling goods. He quickly sold all inventories and requested for further production. That was the beginning of our partnership.
Q. Tell us about your product quality management system.
Cross-checks are carried out in two to three stages throughout the manufacturing process. As for HemoHim, we control the quality of our ingredients by managing the farming process of active ingredients such as Angelica Radix, Cnidium officinale, and Paeonia japonica. The contract farming allows us to obtain ingredients with a consistent quality as our team can regularly visit the farm and inspect the farming site and process. We carry out several rounds of tests on the ingredients after the harvest and during the processing to check for any harmful substance. Every product manufactured by Kolmar BNH goes through extensive inspection from the farming to packaging processes to ensure product safety and functionality.
Q. Please share more about Atomy's product power.
I can confidently say that Atomy products supplied by Kolmar BNH are of a worldclass stardard. They are manufactured in a factory with GMP (Good Manufacturing Practice) facilities.
The products are also approved by Korea Food & Drug Administration (KFDA). We also carry out our own quality control measures. Our efforts have been proven by Atomy's product return rate which is the lowest in the network marketing industry despite the 100% refund policy.
Kolmar BNH's own product return rate has also remained low at 0.08% last year. This was made possible by Atomy's determination to deliver the best quality product to its customers at a low price.
Q. How is Atomy different from Kolmar BNH's other clients and partner companies?
Our partnerships with other companies have also remained transparent and cooperative. One difference lies in our trust in Atomy's "win-win" strategy. Atomy works with its partner companies
for a long term. The company strives to maintain a relationship built upon trust and assists its "team members" to focus its efforts on developing new technologies and increasing productivity. Atomy and Kolmar BNH have kept its partnership for the last decade. We consider Atomy as a partner we can trust and grow together.
Q. What kind of synergy is Atomy's collaboration with Kolmar BNH creating?
Atomy and Kolmar BNH has grown together through role sharing. Kolmar BNH manages R&D and manufacturing of the cosmetic and health supplement products while Atomy takes care of the
distribution and sales. Such collaborative relationship is a key to Kolmar BNH's continued growth in the domestic market and beyond. For instance, we are jointly entering the Chinese market
with Atomy by signing a MOU on setting up a factory in China. The success is due to our trust in Atomy's distribution capability which allowed us to channel our resources to developing quality products.