ARTICLE
[영문] 'HemoHIM', a New Pursuit in the Health Functional Foods Market
[영문] 'HemoHIM', a New Pursuit in the Health Functional Foods Market
JoongangilboPlus magazine- ECONOMIST (2020.07)
Reached a Total Sales of KRW 1 trillion for a Single Product
Developed by the KAERI… Improves the immune system with Angelica gigas, Cnidium officinale, and Paeonia japonica.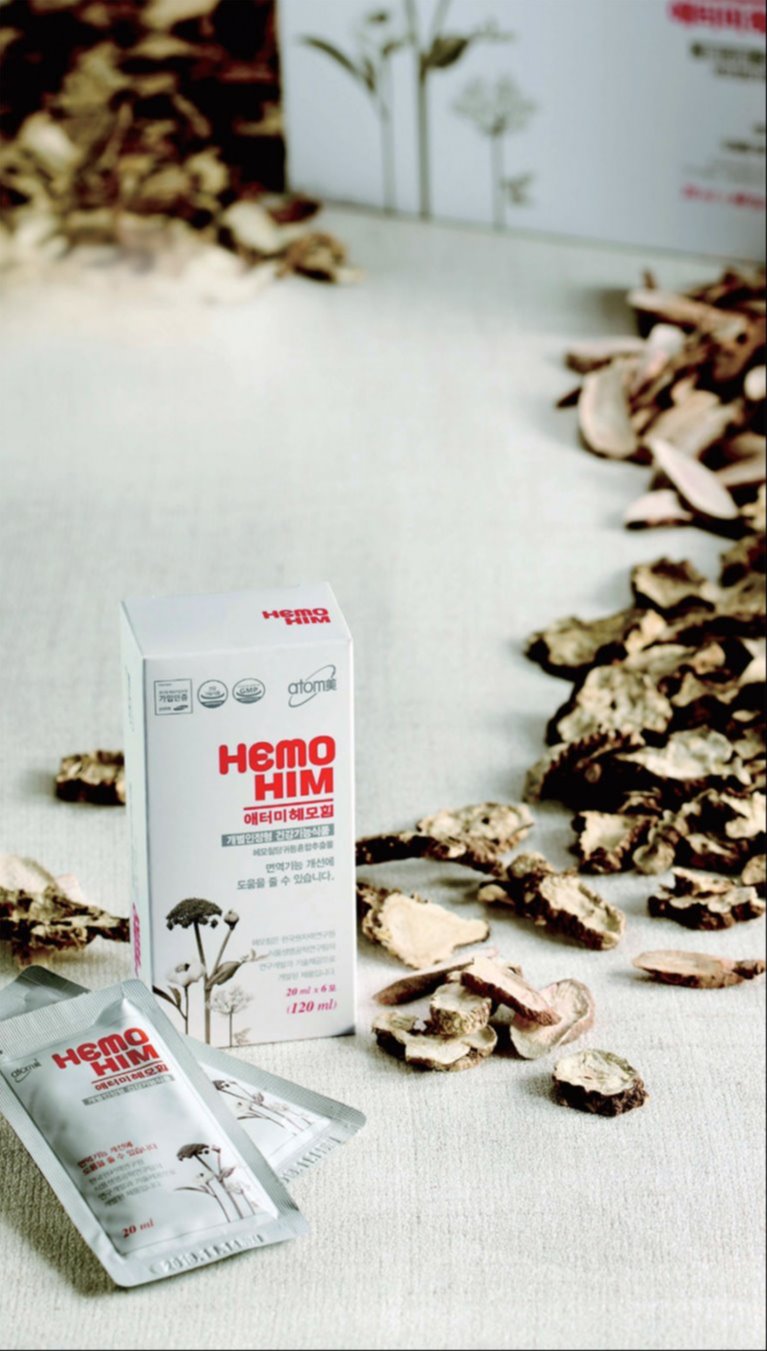 The World Health Organization announced that on July 10 the total number of confirmed COVID-19 patients had exceeded 13 million worldwide. The death rate is 4.4%.
Furthermore, the number of current confirmed patients in South Korea has also exceeded 13,500.
However, a vaccine has not yet been developed and a cure has not yet been found.
People are currently dependent on what is called 'shields', which is symptomatic therapy (a treatment performed on the patient that treats the symptoms rather than the cause), and individual's immunity.
Subsequently, many are turning their eyes toward health functional foods which help strengthen the immune system.
As of 2019, the Korea Health Supplements Association (KHSA) estimated Korea's market of health functional foods to be worth KRW 4.6 trillion.
This represents a large 30% increase compared to KRW 3.6 trillion in 2016.
HemoHIM, a health functional food developed by a food biotechnology research team from Korea Atomic Energy Research Institute (KAERI), is garnering attention.
For the past ten years, up until 2019, its total revenue exceeded KRW 1 trillion.
HemoHIM is a herbal complex of Angelica gigas, Cnidium officinale, and Paeonia japonica.
It is known for improving one's immune system.
In 2006, it was certified as a health functional food ingredient by the Ministry of Foods and Drug Safety (MFDS).
Also, in May 2020, it acquired Green Product Certification.

4 registered patents in Korea as well as the U.S., Japan, and European countries.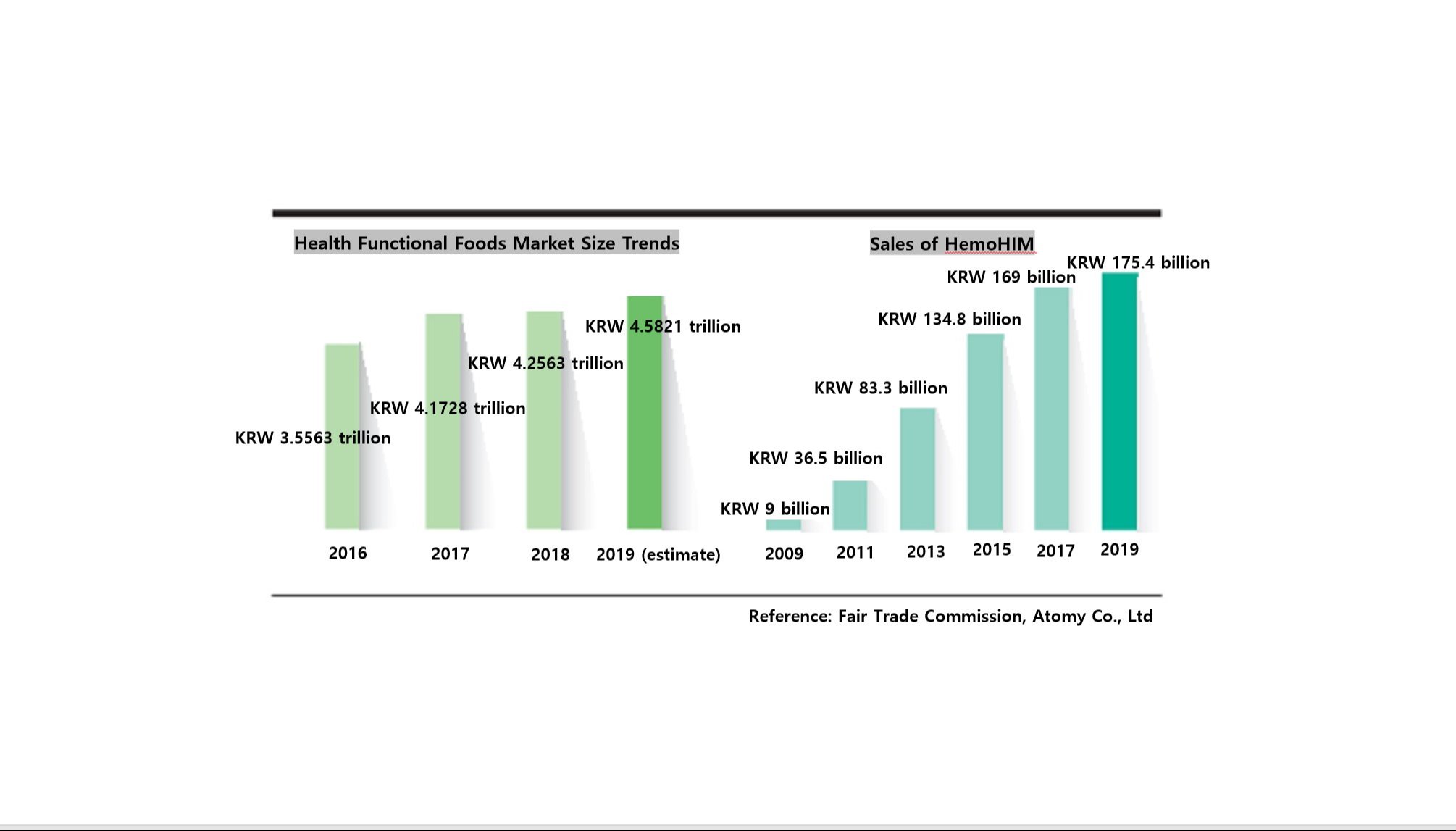 HemoHIM was developed by the KAERI and is produced by Kolmar BNH Corp. and distributed by Atomy.
The sales revenue in 2009 was KRW 9 billion but reached over KRW 181.9 billion in 2018.
In 2019, KRW 175.4 billion worth of products were sold.
Atomy announced that the total accumulated sales revenue of HemoHIM reached KRW 1.1305 trillion in Korea as of 2019.
Dr. Sung-Kee Jo, a zoology (immunobiology) specialist who led the development of HemoHIM, said "HemoHIM is a food that helps activate the function of hematopoiesis, immunity, and tissue regeneration of the human body" in an interview with the Economist.
Hematopoiesis is the production of blood cells, where the immune system functions as well.
Figuratively speaking, if one wants to be good at soccer, the basics, such as running, are important.
Hematopoiesis is one of such basics of human health.
Dr. Jo took interest in immunity after seeing cancer patients with the weakened immune systems.
He used to work at the Radiological Hospital, which had been a subdivision of the Korea Institute of Radiological Research Center (current KAERI). This hospital was especially known for being a cancer hospital.
He started research after observing the hardship that cancer patients go through because of their weakened immune systems as a result of receiving cancer treatment using radiation.
HemoHIM is the result of six years of research including animal and human experiments.
Dr. Sung-Kee Jo and the research team tested various combinations of Angelica gigas, Cnidium officinale, Paeonia japonica, and other herbal ingredients to develop a product that helps improve one's immune system.
HemoHIM earned four patents in South Korea on "the pharmaceutical composition and its preparation method of herb mixture for immunomodulation, heamatopoiesis augmentation and protection from radiation" and "a food for heamatopoiesis augmentation, immunity augmentation and protection from radiation."
In 2003, it was patent-registered in four European countries: Germany, the U.K., Italy, and France, as well as in Japan and the U.S.
The process of developing and coming up with the product was rocky. It was difficult for KAERI, a government-funded research institute, to develop and go out and sell health functional food.
To tackle this issue, KAERI established the Sun Bio Tech Corporation in 2004, an INNOPOLIS research-based spin-off company, in association with Kolmar Korea, a cosmetics manufacturer. Kolmar Korea funded the project and KAERI invested with its technology.

A big hit for Atomy, reducing consumer price with mass production

▲ The roots of Angelica gigas, which were grown in the Jinbu of Pyeongchang-gun, Gangwon-do, are collected in the fall, go through a cleaning and washing process, and are then delivered as a HemoHIM ingredient.
Sun Bio Tech gave birth to the Kolmar BNH Corp. The company produces and sells functional cosmetics and food supplements.
In 2015, through a merger with Mirae Asset Daewoo Spac 2, it entered the KOSDAQ stock exchange.
In 2019, it recorded KRW 438.9 billion in revenue.
Dr. Jo stated "There was no such thing as the research-based spin-off company.
I thought of it as a joint venture company and focused on the research.
But as the company succeeded in joining the stock market and its technology was recognized, Kolmar BNH Corp. was able to become the pioneer of the research-based spin-off companies in Korea."
In the early days, high price due to limited production quantity of HemoHIM was a barrier for the consumers.
Atomy played a key role in solving this problem.
A source from Atomy explained, "When Han-Gil Park, the Chairman of Atomy, took charge of distribution, he started mass production of HemoHIM, which was able to cut the price down to one tenth of its original price, to KRW 76,500 per set.
And in doing so, we were able to expand our business overseas."
Research and development of HemoHIM is still ongoing.
In November last year, the material development team of Kolmar BNH Corp. proved that Angelica gigias and other compound extracts 'protect against liver damage and improve liver function' after having conducted functionality evaluation since 2017, and published their findings in Pharmaceutical Biology, an SCI-class international academic journal.
Hak-Sung Lee, Chief Researcher of the material development team, Kolmar BNH Corp., explained that "Thanks to close cooperation with KAERI, we could verify new functional effects of Angelica gigas and other compound extracts, and we will continue this research so that HemoHIM can benefit more consumers of health functional foods."
Kolmar BNH Corp. is expanding its sales spectrum to not only Korea but also abroad, to countries such as China.
In February, Kyeong-Rae Han, a researcher from Daishin Securities analyzed in the report that "The demand for HemoHIM has increased because of people's rising interest in strengthening their immunity due to the recent outbreak of COVID-19."
[Boxed article] Dr. Sung-Kee Jo, a zoology (immunobiology) specialist – "Immunity is improved when healthy blood cells are produced"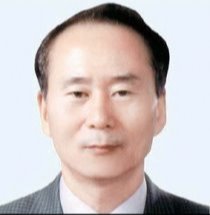 Dr. Jo's interest in the immune system grew when working at the Radiological Hospital.
He started his research after observing the hardship that cancer patients had to go through due to their weakened immune systems as a result of receiving cancer treatment using radiation.

What is the meaning of HemoHIM?
"HemoHIM means that it can help hematopoiesis, immunity, and modulation.
I first thought of calling the product HIM, but the name had already been registered.
I took some time to think and named it HemoHIM by adding Hemo to emphasize hematopoiesis."

What was your motivation to develop HemoHIM?
"I saw many cancer patients going through chemotherapy when working at the Korea Radiological Hospital.
They were suffering because of weakened immune system and later, they suffered from problems other than cancer.
I asked myself, 'Surely having a weak immune system is not only a problem for people who have suffered cancer, but also for those who are not healthy due to other reasons?'
So I started research to develop a product that can improve one's immunity."

What did you focus on more? Hematopoiesis or immunity?
"I started the project to help and improve overall immunity.
But I put emphasis on developing composition that helps hematopoiesis to function properly because it is the basis of the healthy immune system.
A person's immunity can be improved only when healthy blood cells are produced.

Is there any particular reason you insisted on choosing herbal medicine ingredients like Angelica gigas, Cnidium officinale, and Paeonia japonica?
"Since the product will be taken by those whose immune systems are weakened, I had to look for non-toxic ingredients.
We experimented with 42 different kinds of herbs and tried to find a compound that brought out the greatest synergy effect.
Sometimes, even if an ingredient is great by itself, it can be toxic or have a lesser effect when taken at the same time in a mixture with other ingredients.
That is why Angelica gigas, Cnidium officinale, and Paeonia japonica were selected."
원문 기사 바로가기
► https://jmagazine.joins.com/economist/view/330680