ARTICLE
Atomy Japan Grew Highest by 60% Last Year
Atomy Japan Grew Highest by 60% Last Year
Atomy Japan Grew Highest by 60% Last Year


Consumers Looking for Good Products at Reasonable Price and Online Shopping are Growing - Will Continue to Grow This Year


This year marks the 10th anniversary of the Atomy Japan. Despite the tragedy of the Great earthquake disaster of East Japan occurred in 2011, the Japanese region, which opened in 2011 to keep its promise for the members, has continued to grow steadily for a decade until last year. There were many concerns about the opening of the Japanese region. It was because Japanese consumers are generally interested in the world's best quality products, if not just Japanese products, the direct sales market that has remained stagnant for more than 10 years, and the anxiety caused by the political issues between Korea and Japan.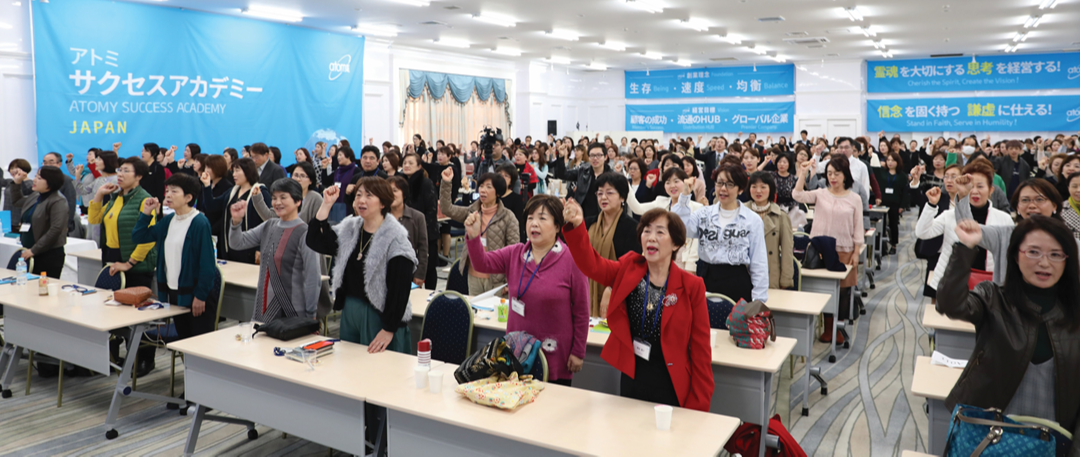 Growth rate of 60% in 2020


In 2020, the Japanese region accomplished sales of KRW 35.8 billion (USD 31.3 million), a phenomenal growth rate of 60% compared to 2019. Even COVID-19 has not been an obstacle to the rapid growth of Japanese region. On the key factors of growth, Han-Bit Park, General Manager of Atomy Japan said, "In difficult situations, cheap and good products play a key role." He added, "With the increase in online shopping, the number of people who review and participate in Atomy in terms of business has also increased." The contraction of economic activity caused due to the COVID-19 pandemic amplified the interest in Atomy as a business opportunity, and the increase in online shopping itself was a chance to Atomy. In addition, a demand for cheap and good products increased, resulting in explosive growth of the Japanese region.
In 2011, the Japanese region accomplished sales of KRW 3.5 billion (USD 3 million). It was a good result, considering that the network marketing market is shrinking, the reluctance of Japanese to incur inconvenience to others, and the adverse conditions of the aftermath of the Great earthquake disaster of East Japan. In 2015, it surpassed the KRW 10 billion (USD 9 million) mark only five years after it entered the market with sales of KRW 11 billion (USD 8.7 million). The increase in the number of full-time contractor was slow as the one-day Success Academy was held due to the burden of the two-day Success Academy events.
Although the growth was modest, the enthusiasm of the Japanese region was great. Japanese people have strong sense of regionalism, so they are reluctant to participate in seminars held in other provinces. For this reason, it had to visit each region and hold seminars separately. Furthermore, because the transportation cost in Japan was so high, the seminar had to be carried out as a nationwide tour with video equipment loaded in a 10-seater vehicle. It was certainly a forced march, which was only possible thanks to the enthusiasm and sacrifice of the staff. And consequently, the number of members attending the seminar gradually increased. The number of members attending the seminar, which totaled only 1,000 in 2012, surpassed 10,000 in 2015, and surpassed 20,000 in 2017.
Accomplishment without HemoHIM


One of the reason why Japan's sales growth is meaningful is that it is growing without HemoHIM, Atomy's main product. In 2020, HemoHIM sold more than KRW 300 billion (USD 261 million) worth worldwide, accounting for 17.5% of Atomy's global sales. On the top of its proportion in sales, it is certainly not too much to say that it is the product that symbolizes Atomy. However, it cannot be registered in Japan because the ingredients of HemoHIM are classified as medicines in Japan.
Also, Japan is an advanced region with highly developed IT technology. But strangely, it is also a country that does not have much IT technology applied in daily life. In particular, smartphones are still not common among middle-aged Japanese people. Although it is changing rapidly due to COVID-19, it is still not easy to adapt. In fact, according to Opensurvey's "Survey of Consumer from 11 Asian Countries," both the frequency and purchase amount of online shopping in Japan were much higher offline. In particular, only 3.1% of respondents said they shop online more than once every three days.
Nevertheless, the Japanese region is full of confidence in its growth. The reason is the popularization of online shopping, along with the growing number of consumers looking for good products at reasonable prices. Ironically, both of these are rapidly changing parts of COVID-19, and at the same time, Atomy's greatest strengths. COVID-19 is an opportunity for the Japanese region," said Han-Bit Park, General Manager of Atomy Japan. "We will do our best to continue our growth every year without rushing."
Japan's Unique High-Quality GSGS Will Be Accelerated
When it comes to GSGS, which is Atomy's global strategy, the Japanese region cannot be left out. This is because Premium Lutein, Supportive Stockings, and calcium are the products of GSGS of the Japanese region. Since the launch of Supportive Stockings in 2016, the Japanese region has launched the health food Atomy Premium Lutein 30 in 2018 and currently supplied, sold, and exported 13 kinds of products, including five kinds of health foods, five kinds of clothing, and three kinds of miscellaneous goods, focusing on capsule products. Last year, it exported KRW 2.2 billion (USD 1.9 million) to five subsidiaries, including Singapore, Australia, Taiwan, the US, and South Korea. "Thanks to its delicate technology and high-quality customized products, it is receiving favorable reviews in many regions, including Southeast Asia," a GSGS official said. "We aim to grow into a GSGS Atomy overseas sourcing strategy base with the name value of "Made in Japan" and low cost."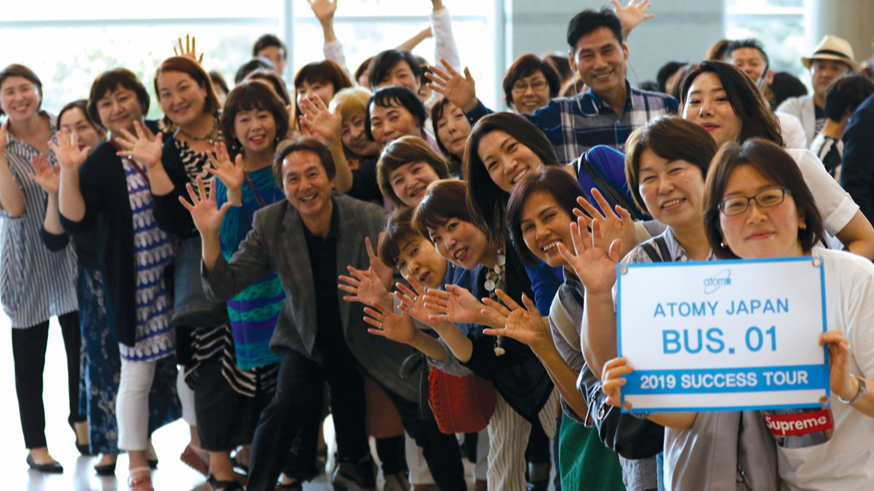 Atomy, a Life-Changing Choice. "Product Sells Itself All You Need is Confidence for the Success "
Member Interview
Mitsuki Fujimoto
Royal Master

"The products sell themselves, even in foreign countries where I don't know anyone." The words of Royal Master are filled with confidence. Confidence in Atomy, its products, and her success. So, she says if you have a reason to succeed no matter what it takes, do not hesitate and choose Atomy for the sake of the people you love. "Trust your product and your company and devote your passion and effort in the field, and the success you dream of will become a reality."

She learned about Atomy by coincidence. An acquaintance sponsored Atomy cosmetics at an outdoor barbecue party. Mitsuki Fujimoto, who used to use luxury cosmetics, gave away all of the Atomy products she received to other participants and even forgot about them. After about six months, an acquaintance who attended the barbecue party contacted her and asked to buy an Atomy deep cleanser. "After frequent overtime work and coming home late, I often fell asleep with the Atomy Deep Cleanser on until the next morning, but my skin had not damaged and even got better. So I started using it, and when I used it, it was better than the luxury cosmetics I used to use, but the price was about a tenth."

She was truly impressed. She was working for a leading conglomerate, but life was tough. She realized that a career as an office worker could not change her life and boldly quit the company to find a new breakthrough. Then she started the Atomy business with all her strength. There is an episode that shows her engagement. It was when she was very busy and tried to become a Star Master. She noticed that she went to the seminar wearing different heels. The design, of course, and the height of the heels were different, but she didn't notice the difference. She was completely focused on the seminar. "Partners thought wearing totally different heels was a new fashion trend. I'm proud of myself for engaging in the Atomy business with that much passion."

Even COVID-19 could not stop the passion of the Royal Master. The Atomy business was rather a miracle and happiness for her, who was on the verge of death with her illness. When offline sales were not available she focused on online, and didn't even have time to worry about COVID-19. What she was really afraid of was living in poverty for the rest of her life, and what she could trust and rely on in such a situation was the success that Atomy would bring. Even in other countries, where there was no one to buy products from her, connections were made and purchases continued, thanks to the excellent quality of Atomy's products. "The products sell themselves. It was a hard and lonely journey, but I think I am where I am now because there was a company that took care of me more than my family and my partners. I will try not to forget about it and live every day faithfully with gratitude."

Mitsuki Fujimoto, the Royal Master, believes the answer to all the questions is in the field. She had a faith in her success and, above all, in Atomy's product quality and the company. With such confidence, she actively guided all the partners she met to Atomy Success System, and such efforts were built up to make her as the Royal Master. "My favorite passage of the Bible is 'Let it be done, just as you believed it would.'" I hope all Atomy members believe in success and have an abundant life to share with their loved ones."

COVID-19, Not a Crisis, but an Opportunity "A Model in the Japanese Direct Sales Industry"
Han-Bit Park
General Manager of Atomy Japan

"It feels like 10 years passed as fast as a day." This is how Han-Bit Park, General Manager of Atomy Japan, recalls the past decade. Japanese people has the world's highest loyalty to domestic brands, and it is not an easy region for foreign distribution companies to settle down. Moreover, Atomy is a Korean company. It is no exaggeration to say that the fact that Atomy Japanese region has grown into a corporation that can celebrate its 10th anniversary itself feels really meaningful.

"A lot of preconceptions, uncomfortable perceptions of door-to-door sales, and political issues made the future look not so promising. The only thing to rely on was the chairman's words, "Cheap and good products sell anywhere in the world." Now we know Absolute Quality Absolute Price works anywhere in the world, but in 2011, I was half-doubtful. Although I thought it would work, my sense of reality was bound to be unstable. Moreover, it was Japan. Neither Samsung nor Amorepacific nor Hyundai Motor were able to succeed in Japan.

Japan has a longer history of network marketing than Korea, but the market size has been decreasing from its peak in 1996. Also, unlike Korea, Japanese domestic companies account for a large portion of their products and consumption. He wondered how long would Atomy, a door-to-door sales company that was not even known at the time of 2011, last in Japan?

Many things can change in ten years. During that time, the Japanese region came up with a tangible outcome that it would take time and succeed anywhere in the world if it followed the principle that consumer do not turn away the cheap and good products. It proved the potential for growth in the future of Japan and showed it in real life. In Japan, it is said that a 10-year-old company has taken the first step toward becoming a long-lived company. It seems that the Japanese region has just begun its journey to become the top corporation in Japan's door-to-door sales industry. They say, "Well begun is half done." Atomy Japan, which started with the goal of becoming the top corporation in the Japanese industry, thinks that it had a good beginning.

COVID-19 was the turning point for the Japanese region. Of course, there was anxiety due to restrictions on offline seminars by region. However, the Japanese corporation consequently recorded the highest growth rate ever during the COVID-19 pandemic in 2020. Atomy's strengths were revealed as the potential of cheap and good products was demonstrated and online shopping increased. "Tough situations have led consumers to find cheap and good products, and with the revitalization of online shopping, the number of people reviewing Atomy has increased. We expect to continue growing this year."

The Japanese region plans to focus on supporting the leader's activities to continue its growth. In particular, it plans to further spread Atomy's strengths by carrying out promotions that can convey Atomy's vision through seminars. At the same time, it plans to implement an active online education system for leaders and members who are still not familiar with the online environment. Through this, if members quickly acquire the possibility, vision, and know-how of online network marketing, the growth base of the Japanese region is expected to become more solid. There's a saying, "A journey of a thousand miles begins with a single step." We want to grow into a model company in the Japanese direct sales market as a company with social responsibility and humility in Japan without rushing. We want to show you that Atomy can grow and accomplish the absolute value of customer's success no matter how difficult the environment is."
Editor_ Young-Min Lee