ARTICLE
Atomy Oceania's Grand Opening: Opening a new era of Direct Selling in Australia.
Atomy Oceania's Grand Opening: Opening a new era of Direct Selling in Australia.
"To spread the word of Atomy through verbal, motivational means"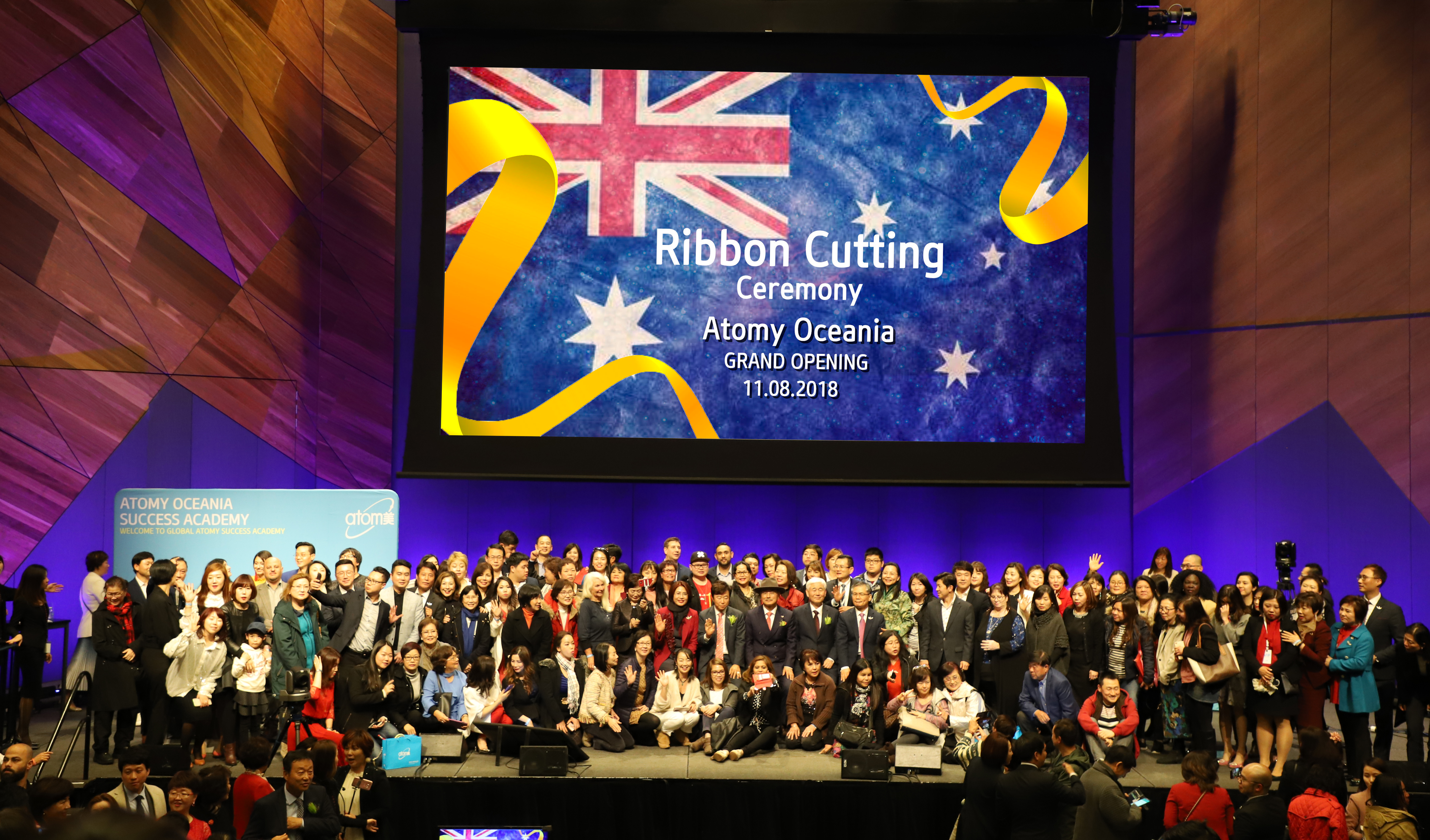 On the 11th of August 2018, Atomy celebrated its official launch of Atomy Oceania at the Melbourne Convention Exhibition Centre (MCEC) marking its beginning in the southern hemisphere.
Mr. Park Han Gill, the founder and president of Atomy Global and Sally Kim, directing manager of Atomy Oceania, welcomed the opening of Atomy Oceania with congratulatory speeches. Gillian Stapleton, executive director of DSA Australia, was a special presence at the opening ceremony. Many members of Atomy Royal Leaders' Club members were also present, expressing their gratitude and promising support for the growing market in Australia and New Zealand. Other 600 participants from in and outside of the country celebrated the opening.
During his congratulatory speech, Mr. Park Han Gill said:
"If you look at the fundamental principles of network marketing(directing-selling), it is about acquiring quality products that I need at good prices. And after using those products and seeing the value in them, I would then introduce those products to others around me. And if those people like the products, they will pass them on to yet others, resulting in a kind of chain effect of purchasing and introducing. In this way, network marketing has the potential to be a very successful model in the distribution industry." He also added, "If you(Atomy member) truly wish to succeed in network marketing, you need to put your partner's success above your own. "
The total amount sold through direct-selling in Australia reached 1.38 Billion Australian Dollars, with the number of active members exceeding 576,000. According to WFDSA, 40% of the products sold through direct-selling are health supplements or health functional supplements. 29% were skincare products or cosmetics. 18% were household essentials, 4% being accessories. The market size is also getting bigger. Gillian Stapleton, executive director of DSA Australia said, "The environment of direct-selling in Australia is evolving. The market is shifting towards younger consumers who are more familiar with and so more closely connected with mobile and online sales platforms than offline retail shops."
Lastly, Sally Kim, directing manager of Atomy Oceania, added her opinion on the Australian direct-selling market:
Australia is a diverse and multicultural society where the majority of the population speaks English and a big percentage of the population also speaks at least one second language, which shows a great potential for Atomy Oceania's business to expand into other international markets." She said, "Atomy Oceania will always put its utmost priority on members' success. Atomy Oceania will help all Atomians(Atomy members) in Australia to be financially independent and ultimately lead family-oriented happy lives. We'll dream together, working together to achieve the dream."
Atomy's goal of becoming a premier direct-selling company in Australian and New Zealand will be achieved through the 3 corporate cultures as follows:
Culture of Observing Principles – Success is more rewarding when achieved through a fair process of abiding by the rules.
Culture of Growing Together – Atomy will grow together with the community it belongs to.
Culture of Sharing – Atomy will share love with all constituents of the society by giving back to them what it makes through Atomy business.
While adhering to these 3 cultures of Atomy, Atomy Oceania will do their best to help all members to become successful business owners by providing them accurate information through diverse seminars and on/off-line marketing materials.